Immerse yourself in a world of ponies.
For pony mad kids everywhere
Owner, Amanda's daughter was very fortunate to have a pony in her back garden as a youngster. She was able to experience the joys of owning a pony-understanding their character, knowing what their needs are, loving them and enjoying each others company. We can now offer your child a taste of this rich experience via our carefully planned pony programmes designed specifically for children.
The Pony Expert, Amanda Keech
Amanda too is a life long horse lover with
over 40 years of horse ownership experience.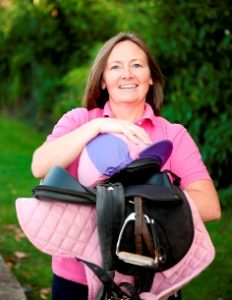 "As a pony mad child I dreamt of Father Christmas leaving me a pony at the bottom of my bed on Christmas day. Whilst that dream never materialised, I had riding lessons from the age of five and at eleven, a chance visit to a distant cousin resulted in us taking possession of an orphaned foal. That was the beginning of a delightful association with a number of ponies and horses, including pony holidays, carriage driving, competing and breeding my own foals."
Having children brought little ponies into the mix and with them, Amanda started one of the first pony party businesses in the UK, Cheshire Pony Parties in 2008. She estimates she's entertained almost 2000 children (and adults!) with her ponies.
Her pony party visitors regularly talk of programmes they've watched about horses  and Amanda recognised that the children would love to immerse themselves more in  ponies, both educational and entertaining, hence Pony Tales Club was created at the start of 2021.
Amanda is known for engaging children both as an entertainer at her pony parties but also as an educator - she has been praised for her educational chocolate workshops in primary schools. She holds the British Horse Society Stable Management qualification and is a fully qualified accountant and tax adviser too!
All the pony programmes have been designed by Amanda to engage, entertain and educate your child. They are shot mainly at her home, sometimes at venues the team have taken the ponies to for a day out, sometimes at the premises of other equestrians for our 'A day in the life of' series.
Amanda is helped by both her horsey daughter and photographer son.
Amanda is committed to providing fun, entertaining and educational videos to inspire your child. Pony Tales Club is the only online pony tv channel to offer such a variety of content and the plan is for Pony Tales Club to be the number 1 online pony tv channel for children in the UK.
The family currently own and look after 6 ponies and 5 horses and live with their 2 dogs, Darcey and Saffie near Chester, Cheshire, England. Amanda still trains and competes regularly with her horses, Minty, Tinks and Riva and her daughter competes on Danny and is training Ella. The ponies are usually pretty busy entertaining pony party visitors.
We currently have 6 small ponies. Four of the ponies work as party ponies. Here are some of them.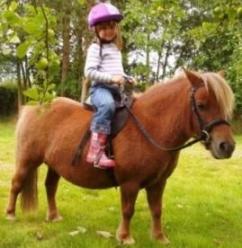 My daughter then moved onto Demi, another absolutely delightful pony who stayed with us for about 7 years before a friend asked if she could buy him for her young daughter. I have now bought Demi back to live out his days here. He's such a lovely friendly, gentle pony.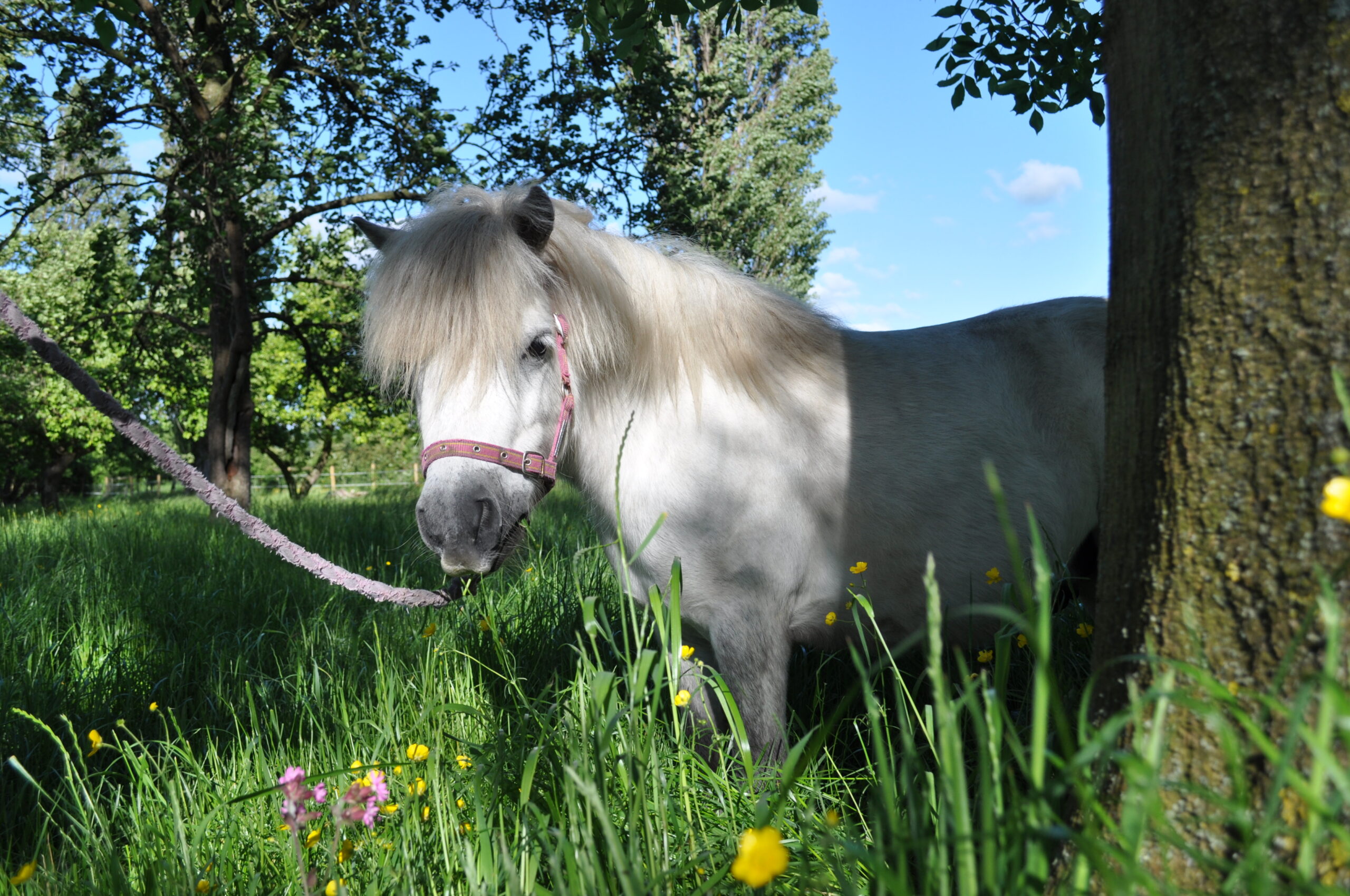 Tess is the latest pony I've bought. Like most of the others she's a Shetland pony. Tess was owned by some tiny girls who absolutely adored her and had lots of fun on her. Here's Tess ready to take visitors around our Christmas pony trail.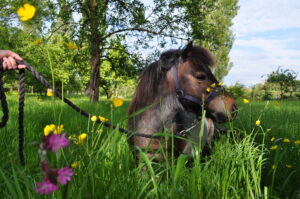 Poppy is a miniature Shetland pony and is just 36" tall. Poppy was bought to keep one of our horses company and was so gentle with the children that we let them sit on her from time to time. We gradually trained her and my daughter then had three years of pony club fun on her before she grew too big for Poppy. All the 'little' people in our family had a sit on Poppy when they visited!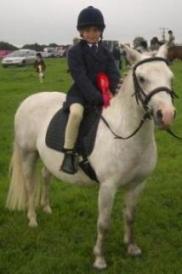 As Poppy is was getting a bit old, I started searching for a pony to take most of the strain off her. I spotted Skittles - a 4 hour drive away. He's such a lovely inquisitive pony (and the boss!)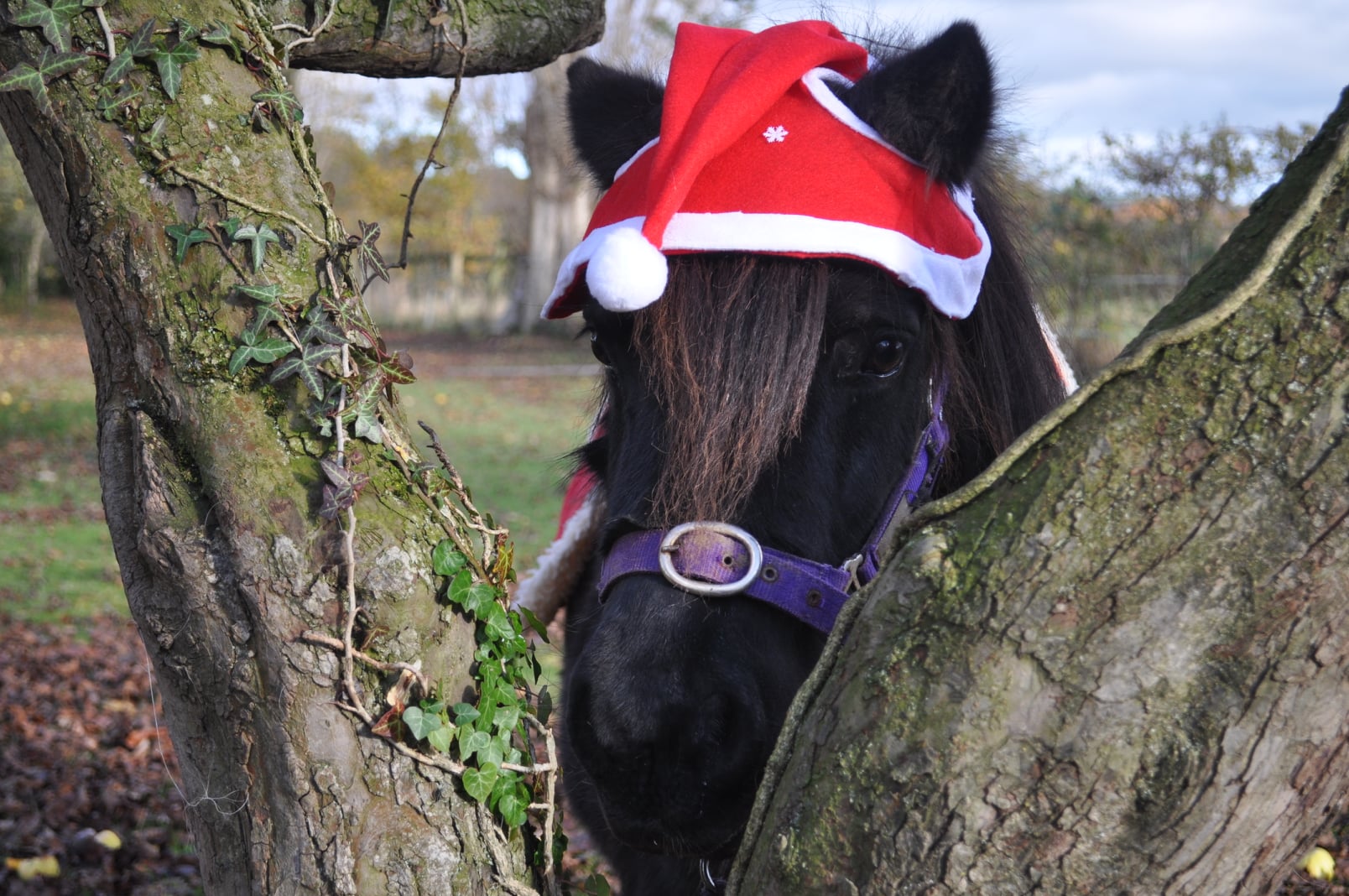 Rusty is the smallest pony here. He makes up for his size in character!
Rusty sometimes sports a black coat and sometimes a white coat!
He has a lovely story of how he arrived here - but you'll have to join up to find out!